Acerca de InfoSpyware

 InfoSpyware founded in 2004 as a site need to explain and in Spanish, what were these new threats 'spyware' that increasingly more and more flooded the network to which few knew. In January 2005 we opened our forum (ForoSpyware.com  which much more than 850,000 registered users and receives over 4.5 million monthly visitors (see statistics ), giving rise to form what today is:
"Most computer security community to combat Malware and other threats in Spanish, 100% free and independent."
In InfoSpyware find: Guides, Cheats, News, Manuals, Tips and Recommendations to follow step by step to prevent/avoid and eliminate all types of Malware, as are the main programs and tools to keep your equipment in optimum performance and free all kinds of parasites. In turn we have a support forum and help to lead directly not only to prevent infection but also how to get rid of these in which they sign and pose your question for free.
.
Twitter @ InfoSpyware.
 Facebook 's official InfoSpyware.
 See: Press releases and campaigns.
InfoSpyware is Microsoft Partner Network .
Official forums for analysis and help in Spanish: ComboFix by @ SUBs .
Official forums for analysis and help in Spanish: TrenMicro by HijackThis .
Official site in Spanish Download the program: Malwarebytes Anti-Malware .
..
About the Creator and Director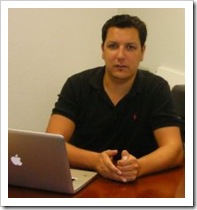 Marcelo Rivero ( ElPiedra ), is the Founder & CEO of " InfoSpyware.com "/" ForoSpyware.com . "Computer Systems Analyst for the ORT University of Uruguay," MCP "and Microsoft MVP in Enterprise Security . An independent researcher passionate threats and malicious code (Malware / IT Threats Researcher) with several years of experience …
Currently resides in Miami, FL, USA, where he serves as CEO of his own company "IT Security Consultant" for over 8 years. He is a speaker at different international conferences ( Spain , USA, Colombia , Mexico , etc), writes articles for InfoSpyware Blog as for other publications online and offline, and is primarily responsible for the operations and services in the day to day of InfoSpyware / ForoSpyware including server management, application development, monitoring, technical support, team building, public speaking and innovation of new services and products with a central focus in information security.
 Microsoft MVP Enterprise Security .
Member of Security Team from: SpyBot S & D
Member of APWG (Anti-Phishing Working Group)
Member of the Expert Team and translator: MalwareBytes
Member ASAP (Alliance of Security Analysis Professionals)
Member of UNITE (United Network of Instructors and Trained Eliminators)
.
Acknowledgments:
For the "InfoSpyware Staff"with over 40 people from around the world who every day selflessly and are responsible for helping users of the forum and keep the same order, without which it would be impossible to maintain this free service.

Y a todos los que confían en nuestra labor.
Surf Safely